Pixar started out as a small, independent animation studio that did computer animated shorts. These shorts served as both experiments to the numerous techniques they could pull off using computer animation as well as spread around the talents at the studio. The Pixar shorts quickly grew in popularity, and when their first film, Toy Story, became a roaring success for the studio the Pixar shorts were celebrated as being integral to the growth of the studio in terms of talent. Since then, most Pixar films come accompanied with a short before the main feature, and they make a new short for their home video releases.
Considering that short films are vital to the studio I decided to list my favorite Pixar shorts! Note that I will divide this list into two categories: Original Shorts (shorts not based on any pre-existing ideas) and Feature Film Shorts (shorts based on Pixar films).
Original Shorts
1.
For the birds
If I was given the task to convince people that Pixar is great, I should show them this. I love how the birds talk in chirps and whistles, resembling Woodstock's speech in the Peanuts cartoon series and specials. The visual humor is fantastic, and the short's finale presents us the greatest lesson of all: he who laughs last laughs the best.
2.
Presto
This short is essentially a love letter to classic Tex Avery/Goofy cartoons, and succeeds greatly at capturing the manic pace of these shorts. Presto is simply hilarious thanks to its amazing comedic timing and insane animation. Presto proves that the people at Pixar have a great sense of humor, often unleashed in the form of manic shorts like this one.
3.
Knick Knack
A word of warning: this short features a very, very, VERY catchy soundtrack. Knick Knack displays Pixar's sense of ironic humor, presenting us a snowman characters who wants to break out of his prison to join the much hotter characters. It's very funny and you will feel bad for the little guy.
4.
Luxo Jr.
The one that started it all so to speak, Luxo Jr. is simply adorable. What's very impressive about it is that despite the characters not having any faces they are very expressive, proving that in animation it's all about movement and acting. The short was so effective that Luxo Jr. would become Pixar's mascot, bouncing around at the beginning of each film. If you are wondering where he came from give this short a try.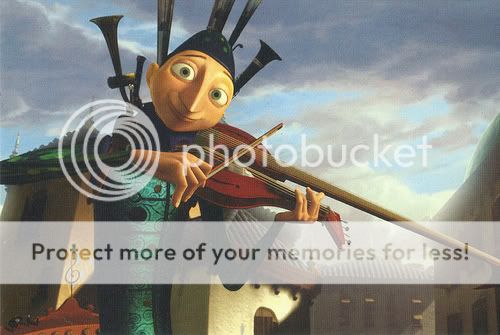 5.
One Band Man
A common trait in Pixar short films is that music and acting drive the story forward. One Man Band employs both, giving us great character animation with some great music. What I love the most about it is that the music perfectly grows more intense as the rivalry between the music men gets more and more heated. It all leads to a very satisfying ending that is funny and even silly.
Feature Film Shorts
These shorts are usually created to expand the film's universe, giving us another chance to spend time with the characters or even take us back to the storyline and tell it through a different perspective.
1.
Your Friend the Rat
My favorite Pixar film also has my all-time favorite Pixar short. People criticized it being a tad long, but to me it features great tongue in cheek humor and many different styles of animation. Don't listen to what the short says, though. BEWARE RATS!
2.
BURN-E
BURN-E is an example of a short film that takes the original story and tells it again through a different perspective. It tells the story of the BURN-E unit as it tries to replace a lamp post while the story was going on with Wall-E and EVE at the AXIOM. It ends on a very hilarious note, even if we feel bad for the little guy.
3.
Dug's Special Mission
The short takes places moments before Carl and Russell meet Dug, explaining us why he is so insistent to taking the bird back to his master. The short is mainly comical in nature as Dug tries to be the best dog he can be, making things hard for the rest of the dogs. Dug's Special Mission ends on both a sad and uplifting note, giving even more depth to the relationship between him and Carl.
4.
Mike's New Car
Mike's New Car doesn't expand the characters or the universe. It's just a silly short with no real reason for existing other than to take the characters and place them in a funny situation. And funny enough, it works! There is some great visual humor, showcasing Pixar's both crazy and subtle animation.
5.
Mater and the Ghost Light
Unlike many fans, I loved Cars, and I loved Mater the best. This short takes us back to Radiator Spring and gives us some great humor and character moments. The ending, though, is what makes the entire short so great. I won't spoil it, but you have to see it to believe it.